Facelift is one of the most common procedures that I perform in my practice. Each approach is custom catered to my patients specific desires and needs.
Without a doubt, the most common question I get is, "what will my scar look like?" I understand this question so well because that's what my biggest concern would be. The entire nature of cosmetic refinements and procedures is that we don't want anyone to know what we did. We want to be in control of who knows or who notices. We want to certain people know and others, we don't.
The scar is also what stays around the longest- even 15-20 years later when gravity has caused more drooping and signs of aging, a poorly placed scar will remain.
I have spent a great amount of time considering these incisions and where the scars are placed. Much of medicine is see one, do one, teach one and we copy the way our teachers did it.
The result of years of training and contemplation about this area of healing have brought me to where we are today. Scars that are usually imperceivable.
I hide the incision in the hair, in and around the ear in places that people aren't able to see. There is no way to ensure that no scar will ever result, but in using some complex facial plastic techniques, we're able to make them nearly imperceivable.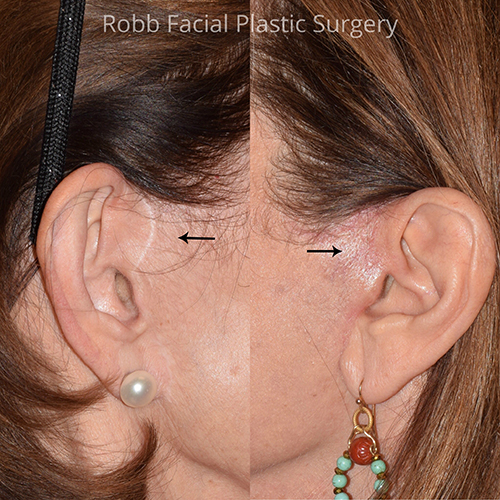 The patient on the left had facelift 15 years ago by another physician while the patient on the right had a facelift by Dr. Robb Jr. just 6 weeks ago. Which ear do you like better?